New Patient Center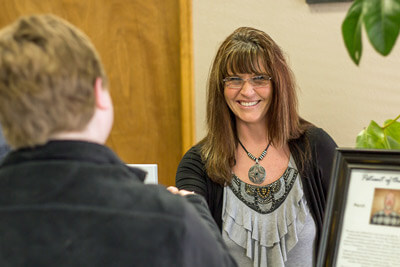 Welcome to Cornerstone Wellness Center! If you're visiting our Helena chiropractic care center for the first time, we'd like you to know exactly what to expect. You're welcome to book your appointment right from this website; we invite you to download your new patient paperwork as well. If that's not possible, it's fine just to come in and complete your intake forms in the office.
Our office has often been described as friendly and inviting. We go to great lengths to show you a warm welcome; we hope you agree!
ONLINE FORMS »

Your First Visit
Your first visit will take about 30 minutes. As you enter the office, you'll be greeted by one of our staff members who will invite you to have a seat while you wait for the doctor. You'll then be escorted to a private room, where your chiropractor will conduct an in-depth assessment, including
A consultation
An examination
Digital motion-study X-rays, if necessary
Your Second Visit
Your second visit will take about 30 minutes as well. During this appointment, your chiropractor will evaluate your examination results to help you understand the source of your problem. Customized treatment choices to help you start feeling your best will be discussed. We'll let you know how long it will take to get better and what your financial investment will be. Your visit will conclude with your first gentle chiropractic adjustment, accompanied by any therapies that are deemed necessary.
Regular Visits
Regular visits can vary from person to person, depending on the severity of the problem and the personal goals of the patient. Treatment options can include chiropractic care, specialized therapies and functional fitness programs that are individually designed for each patient for maximum results.
Do I have to go forever?
We feel it's essential to maintain your spinal correction once you're out of pain and feeling great. Most patients find that they feel more vital and active when they stop in for consistent spinal checkups. However, the choice is yours; our door is always open. Contact Cornerstone Wellness Center today for a same-day appointment; we take insurance!
CONTACT US »
---
New Patients | (406) 443-7000